Navigating life together using the Beacon of Truth
Every Tuesday Morning | Perdido Key Oyster Bar | 6:30 to 7:30am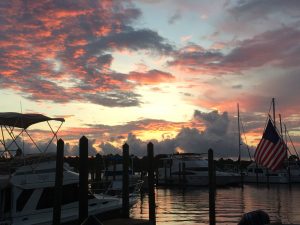 A common view on Tuesday Morning Men On Deck Bible Studies.  
All men are welcome to join us on Tuesday mornings for a time of Bible study, fellowship, and discussion.  Currently we are using Man in the Mirror Bible studies.  We journeying through the 12 Challenges of Biblical Manhood.  We are currently discussing the Biblical challenge: Discipline.
We meet outside on the deck of the Perdido Key Oyster Bar.   During inclement weather, we meet inside.
Big Ideas: (last 6 weeks)
July 4, 2017:       No meeting. Pray for our country.
July 11, 2017       "68 Words that Guarantee Marriage Success: 'Father, I said till death do us part, I want to mean it. Help me to love You more than her and her more than anyone or anything else.                                 Help me bring her into your presence today. Make us one like You are three in one. I want to hear her, cherish her and serve her, so she would love you more and we can bring you                                glory, in Jesus' name, amen.'"
July 18, 2017:      "Trust, integrity, love, and sacrifice are the hallmarks of hi-fi relationships."
July 25, 2017:      "We are made for relationships."
August 1, 2017:    "Disciplines are how I release the power of God into my everyday life."
August 8, 2017:    [We spent time sharing and hearing a man's testimony]
August 15, 2017:  "You can hear God best when you intentionally create space for his voice in your life."
Perdido Key Oyster Bar & Marina (map)
13700 River Road | Pensacola, Florida 32507
Coffee and Refreshments Served!